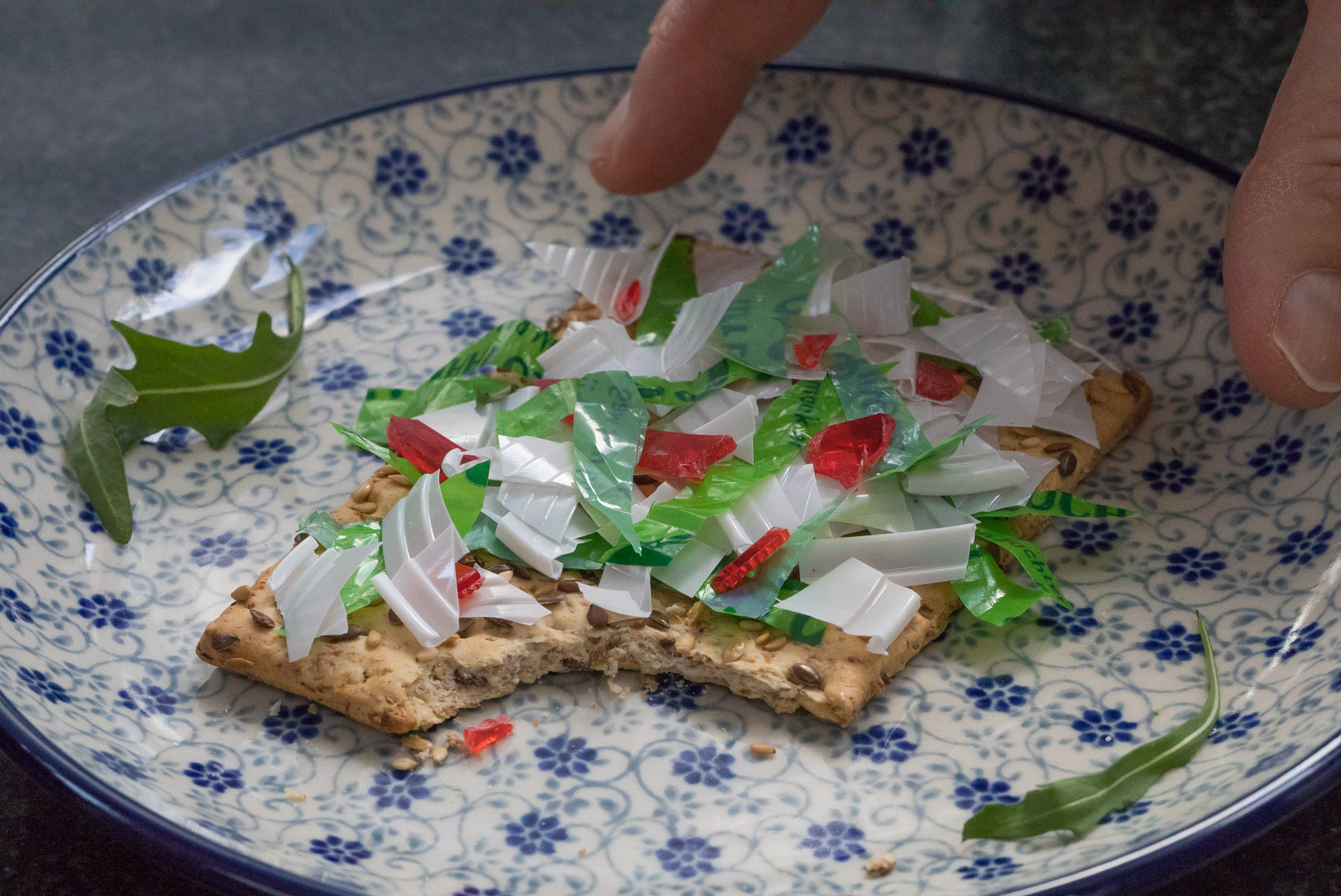 Seven o'clock, and there's an icy storm blowing outside. My warm fleece jumper is covered in cat's hairs, so I give it a good shake. Plastic microfibers fly all over the place. They get in to my lungs, and for all I know they settle in to the lung tissue. With dirt and all, as the jumper was not too clean. I'm glad I don't have asthma.
It's time to get blown away in the park on my morning walk. There's an empty plastic chips tray floating in the pond. I fish it out and throw it in the rubbish bin. Some viruses and bacteria feel very much at home on plastic, more so than in the wild. I bet they have now hitched a lift on the tiny scraps of plastic that have stayed behind on my fingertips.
A little later, I'm struggling through a complicated report. I can't seem to concentrate. Is that lack of caffeine, or is my brain full of plastic as well? I wash that last thought away with a big sip of cappuccino.
My tummy begins to rumble. Biological multigrain crackers, cheese and humus on the menu: all hygienically packed in plastic. My lunch has been surreptitiously seasoned with tiny pieces of nanoplastic. They end up in my intestines and who knows, maybe they pass through my intestinal wall in to my blood and lymphatic system. That doesn't seem healthy: but maybe I will be well-preserved…..
I have a productive afternoon, typing away on my plastic keys, using my mobile in its nice plastic protective cover, making notes with my plastic pen. And then it's time to clear my head with a run.  My comfy synthetic sports clothes leave minute plastic particles on my skin, so small that they might be able to worm their way in to my cells. I make way for a brand-new mother with a pram. Did her baby already feed on plastic in the womb, via the placenta and the umbilical cord? He looks quite normal….
The running clothes go straight in to the washing machine and the dryer, so that they are nice and fresh for tomorrow.  As soon as I open the door of the dryer, another cloud of microfibers makes a beeline for my lungs.
Hubby is in the kitchen, stirring mussels and fish through the paella. They, of course, have been eating from the plastic soup in the ocean. The plastic has been accumulating in their fishy bodies, and will now move in to mine. When I go to bed later for a well-earned sleep, illegal micro- and nanoplastics may be pioneering their way through my body. If that is indeed the case, then I hope that my immune system will arrest them and throw them out, just as it would with other foreign bodies: although it's not known whether that actually works with plastic.
Tomorrow, seven o'clock, a new plastic day begins. A new round of breathing, eating and drinking plastic. Fifteen researchers are going to investigate what that has been doing to my health. That's both good and bad news. I'm feeling as fit as a fiddle, but for certainty's sake I should maybe start a plastic diet…….
Renske Postma